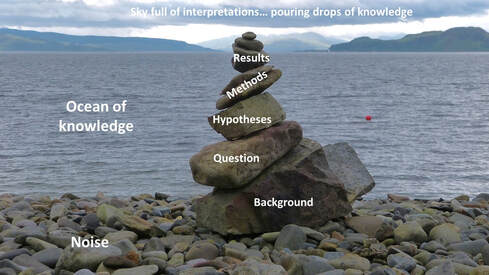 Why should you fund me?
Because I am ignorant and crazy, and for the sake of science.
Ignorance is what allows to always wonder, explore, open my mind to any possibility, and finally learn a lot.

Being crazy is what it takes to willingly spend unreasonable amounts of time and efforts to add

in a life time only a few drops in the ocean of human knowledge.
For the sake of science: This is about the best use of available human resources, I have a strong and deep passion

for research, I seek to do good science above all, and I am getting better everyday.
Narrative
My passion for research in social, cognitive, and affective neurosciences fired up as I was reading Antonio Damasio's works for my Bachelor thesis (at the Free Univ. of Brussels) on how moral behavior was impaired following frontal brain damage.
The following year I contacted Antonio Damasio and he welcomed me twice in his institute to work with Lisa Aziz-Zadeh (Brain & Creativity Institute, University of Southern California). We investigated the neural correlates of visual creativity and how the mirror neurons system and empathy for pain are modulated in a congenital amputee (2008) and by anger (2011).
For my Master thesis (UCLouvain, Belgium), I undertook to provide an interdisciplinary framework of how the cognitive regulation of emotions relates to executive functioning both cognitively and neurobiologically.

After graduating I joined Bruno Rossion

's lab to collect and analyze fMRI data on face processing adaptation and lateralization.
In 2010, sharing the same interests for social cognition, Dana Samson and I decided to work together on a promising PhD project which looked at how perspective-taking performances change between individuals and under emotional episodes.
In collaboration with Susanne Quadflieg (Uni. of Bristol, UK) we conducted an fMRI study to investigate the neural correlates of attributing mentalistic vs. non-mentalistic adjectives.
In collaboration with Jari Hietanen (Uni. of Tampere, Finland) we systematically examined the link between gaze processing and perspective-taking across 3 experiments.
From October 2014 to August 2018, I joined Claus Lamm's lab at the University of Vienna ! We worked on self-other distinction in empathy through multivariate analyses of behavioral data, meta-analyses and reviews of neuroimaging literature, a study combining fMRI and rTMS, and an hyperscanning study. All manuscripts are being written, be patient :).

During two years of postdoc at UCLouvain I started developing my own avenue of research linking self-understanding to others' understanding. I organized a series of workshops called "From Self-Knowledge to Knowing Others" in Nov 2018 and 2019 (then covid but 3rd edition on its way).

I then completed a postdoc at CRDS (Tournai, Belgium) to identify the obstacles and solutions in the long and difficulty path a mentally ill offender takes towards reintegration into society. A fruitful collaborative and bottom-up approach highlighting the interest of multi-method quali/quantitative designs!

Early 2021 I got selected for a permanent position as scientific advisor at FPS Public Health to analyze transdisciplinary health issues in the lens of the One Health approach and to promote the approach in the other departments and sectors. A refreshing experience with a great team that I interrupted to start my most wanted chapter of my life: being a professor of psychology.


Various links and pictures: